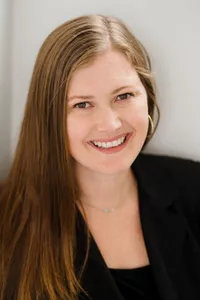 "I believe that people make sense in the context of their story and that the key to healing is within each one of us. My approach to therapy has evolved over the years as I began understanding that what most people are looking for is someone who can help them with a deeper understanding of how they became exactly who they are today." -Lou Lou Olson has owned and worked with horses for over 30 years and believes strongly in the therapeutic benefit that horses bring to a healing environment. Lou has worked as a trainer, coach, riding instructor and competitor in the horse arena and she is excited to meld the world of mental health with equine presence to enhance physical and emotional health.
As a Licensed Clinical Social Worker and Infant Mental Health Clinical Mentor, Lou provides individual, family and equine assisted therapy. Lou has over a decade of clinical experience and mental health training including working with individuals to address and resolve impacts of early childhood and adult trauma. She further specializes in working with infants/young children and their caregivers through an attachment and relationship based lens. This work includes supporting parents during pregnancy through the early years of parenthood and working with children with developmental delay or medical needs. Lou has specific training in supporting adoption, behavior and parenting challenges.
Lou is passionate about supporting teens and adults who may be impacted by trauma and challenging life events. She has worked with first responders, helping professionals and military families to support the unique dynamics and challenges associated with these roles. She welcomes those who may be struggling with life stress, depression or anxiety in their day to day lives.